Roles

Content DevOps Support, Software Developer, Technical Writer

Skills

Support, Training, Video, OBS, Kdenlive, Camtasia, Draw.io
Ever-passionate for learning, I've gained depth and breadth of knowledge about the technologies, skills, and art of my chosen profession, namely technical communication in the data software domain and, more recently, application development. A technical communicator at heart, the knowledge I gained has put me in a position to not only communicate technical concepts with customers, but also to support my peers. I've therefore become a go-to person in many areas:
Authoring in many text-based editing formats, including DITA-OT XML since its inception, various flavors of Markdown, AsciiDoc, and classics such as SGML, Bookmaster, and IPF
Debugging and troubleshooting problems with the builds of those formats
Tips and tricks on using editing, content management, and source control applications, such as Oxygen XML Author, Inkscape, Filenet, and Git
UI design, with constructive insight when collaborating on user experience
Software development, which resulted from my desire to create custom tools where the core applications were lacking, to include custom DITA XSLT and specializations, scripts, and web applications to guide the production workflow and apply documentation testing
In my effort to share with my peers, I've provided documentation, videos, demos during video calls, deskside assistance while screen sharing, …, any means necessary to give writers the support that they need. In particular, since 2015, I've provided more video content. Here I am, talking through the build workflow and referring to documentation I wrote, used to readily launch each of the cloud-based systems involved.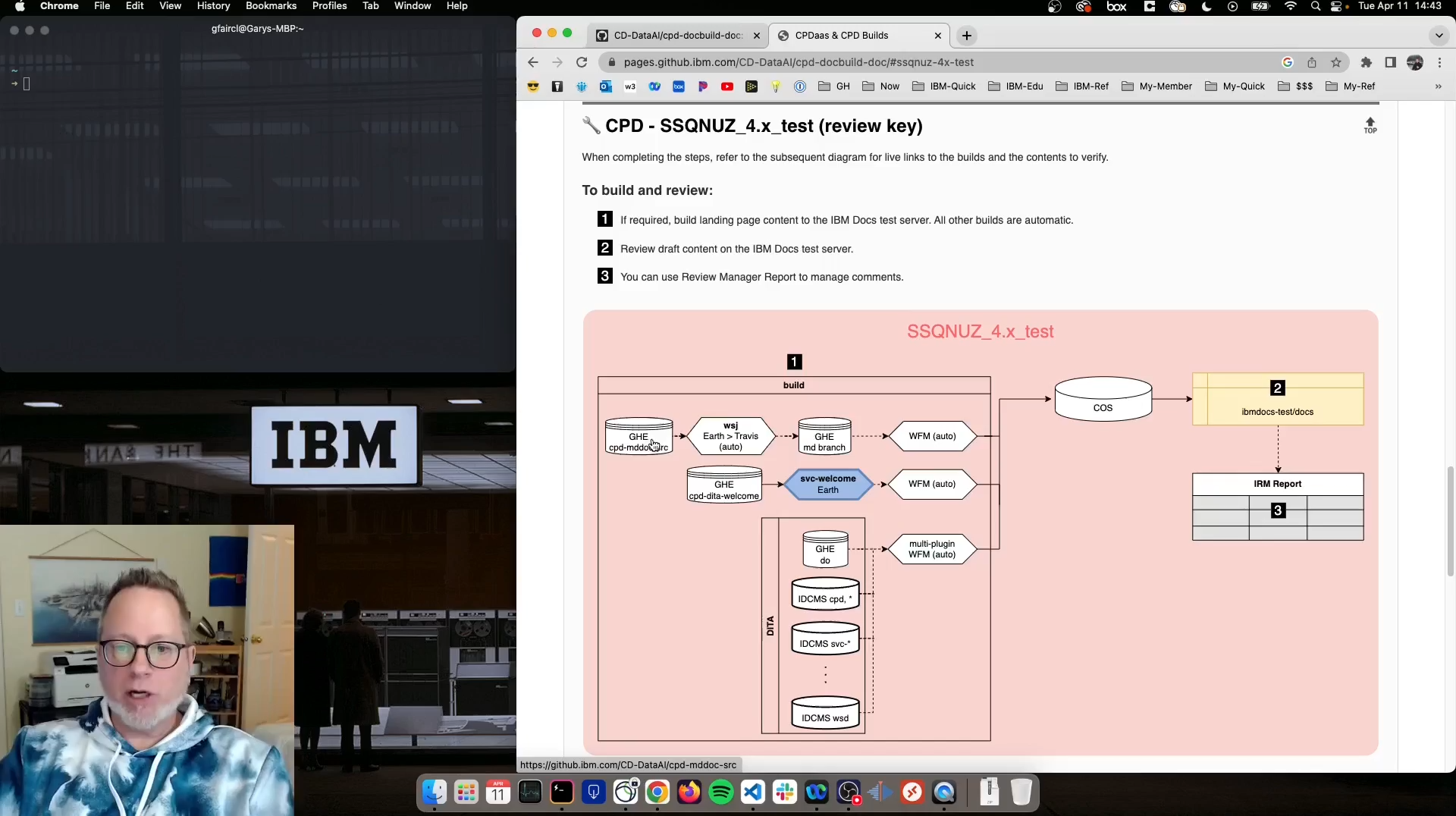 Tip
Inspired by IBM AI ContentOps Architect, Sarah Packowski, I believe that as better transcript processing technology comes available, we'll be able to
make transcribed video content more readily available
in product documentation and search queries of internal organizational knowledge, not only on YouTube as currently exists today.